Remember – commemorate – act
– under this heading, over 50 people took part in the remembrance path to places on the evening of November 9, 2020. The Bonhoeffer-Haus e.V. memorial and meeting place, the Stolperstein Initiative of the Eichkamp settlers' association and the Evangelical Peace Congregation had invited guests. Victims of National Socialist persecution were commemorated in the following places: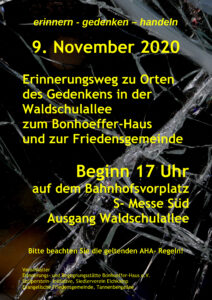 1. Memorial plaque at the Mommsenstadion in memory of Jewish athletes who were excluded from clubs such as the Sport-Club Charlottenburg during National Socialism. They had to flee Germany; even Olympic champions were not protected from deportation and murder.
2. Stumbling blocks (Stolpersteine) in Waldschulallee in memory of Jewish citizens in the Eichkamp settlement.
3. Bonhoeffer House memorial and Place of Encounter with the memory of Klaus and Dietrich Bonhoeffer, Rüdiger Schleicher and Hans v. Dohnanyi.
4. Camp of the "Organization Todt" in the Waldschulallee with 2000 prisoners in barracks for forced laborers, prisoners of war, concentration camp prisoners and "unworthy of defense" Germans ("half Jews", homosexuals, politically persecuted people).
5. Family home of the lawyer Ludwig Ruge close to the church of the Ev. Friedensgemeinde at Tannenbergallee 8. He represented many Jewish clients. His wife was Jewish and they hid two Jewish sisters in their home.